Colorado Powersports Race Corner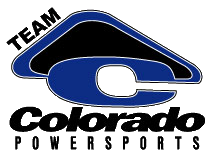 From the Desk of Mike Bush
Team CPS Manager
Did you know that Colorado Powersports sponsors more racers than any other dealership in Colorado? That's right Colorado Powersports supports the sport of Powersports racing!
Colorado Powersports is very excited about Colorado's local and national race season! Proud sponsor of the AMA Outdoor National, Colorado Powersports is working hard to bring the nation's best racing to you! We also sponsor several local race events through the MRA, RMXA, SRAC and Xtreme Mountain Racing SnoX to keep racing alive and well in Colorado

Team Colorado Powersports racers are gearing up for a full throttle race season. If you would like to join Team Colorado Powersports, please send your race resume to [email protected] We're always looking to support great local talent.

We're doing it in the snow too! As many of you know, I and many Colorado Powersports employees love to snowmobile. We have encouraged the shop to take an active interest in supporting the local snowmobile community by sponsoring the Xtreme Mountain Racing SnoX circuit and by holding some of the largest Yamaha snowmobile demo days in the western region. We'd like to extend a big welcome to our new snowmobile racers to the Team Colorado Powersports.

Team CPS is taking support to a whole new level. We'll be attending over 20 races, both SRAC and RMXA, with the Team CPS support trailer, which is stocked with a large parts inventory along with a tire machine, compressor and generator. If you love the smell of race fuel in the morning, Colorado Powersports is the place for you with multiple levels of sponsorship available from the novice racer to the AMA champion. So whether you need a part, need help with your bike or just want to hang out, Team CPS is dedicated to supporting you.
Locally owned and operated since 1998, Colorado Powersports is more than just a powersports dealership. Located in Denver (104th and Federal) and carrying seven manufacturer lines including the Big Four (Yamaha, Suzuki, Honda and Kawasaki), Colorado Powersports takes great pride in supporting a growing community of powersports enthusiasts. So, whether you're on the track or in the stands, Colorado Powersports is there for you. Let's Ride!